The IU Chemistry family lost a shining light when Dr. Mansukh Wani passed away in April 2020 at age 95 in Durham, North Carolina.  Dr. Wani is most famous for his co-discovery campothecin (four analogs of which are successful chemotherapy drugs) and paclitaxel (taxol) in collaboration with Dr. Monroe Wall (1) at the Research Triangle Institute, RTI.  Dr. Wani specialized in both the isolation and characterization of natural products from biological matrices.   He also worked extensively on making water soluble analogs of camptothecin (2).  Dr. Wani's many professional awards include the Bruce F. Cain Memorial Award in 1995, the Charles F. Kettering Prize in 2000, the Ranbaxy Research Award in 2003, and the Indiana University College of Arts and Sciences Distinguished Alumni Award in 2003.  A more complete list is found in the RTI announcement (can we cache a copy here)?  A picture (3) of Dr. Wani, his wife Ramila, and his son Bankim from the 2003 awards banquet accompany this article.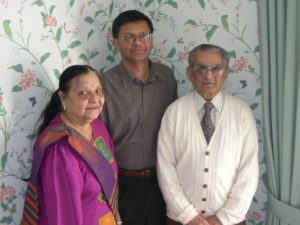 Medicinal Chemistry was a source of great renown for IU in the 1950's and 1960's with Professors Ernest Campaigne, Marvin Carmack, and Harry Day all being active at that time.  Mansukh Wani came to IU in 1958 to study medicinal chemistry with Dr. Campaigne.   He was previously a Lecturer in Chemistry at Bhavan's College in Mumbai, India after receiving his Master's Degree in Organic Chemistry at Saint Xavier's College of the University of Mumbai (Bombay) 1950 (2,4).  During his four years at IU, Wani worked on the chemistries of isothiouronium salts and nitrogen-sulfur heterocycles.  He also worked on one sponsored research contract for Walter Reed Army Hospital in 1960.  Wani published one paper as part of his thesis work with Professor Campaigne in 1964 (5,6), and it has been cited as recently as 2006 in a research article (7) and was included in a November 2019 review (8).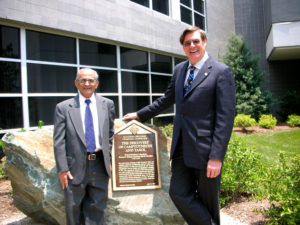 His colleague at IU and friend of nearly 60 years, Dr. Jack Gill (Ph.D. 1962, Carmack group) recalls driving Wani up to the Indianapolis airport to pick up his wife and then four-year-old son.  The two remained close after leaving Bloomington on very different career paths.  Dr. Wani did a brief post-doctoral fellowship at the University of Wisconsin before joining the Research Triangle Institute in 1962.  Gill and Wani would routinely meet up at conferences to share updates, swap stories, and discuss science.  Dr. Wani was a gracious I.U. alumnus throughout his career.  A review of past issues of the journal of the Association of Indiana University Chemists reveals that Dr. Wani routinely donated to the Department as far back as 1985.  News of his successes at RTI and family triumphs appear as far back as 1977. 
Dr. Wani's career provides an example of the skills obtained in the Chemistry Department can have an immeasurable impact on society at large.  Dr. Wani was remembered for his dogged determination in isolating novel natural products, scaling up the isolation to provide a sufficient amount for characterization, and then coming up with synthetic schemes to generate analogs of those compounds with more desirable pharmacological characteristics.  He is also remembered for mentoring young Indian chemists at RTI (2) helping them find a way to feel at home in a new country and social structure as well as advancing medical science.  Mansukh Wani lived the attributes we hold dear as Hoosiers: "never daunted…tried and true". 
---
Sources:
Photo of Dr. Mansukh

Wani

and Dr. Monroe Wall at Research Triangle Institute in 2000 showing a section of pacific yew, the plant from which

taxol

was isolated.  Photo courtesy of

Dr.

Jack Gill

(Ph.D., 1962)

 

Photo of (L to R)

Ramila

,

Bankim

, and

Manuskh

Wani

from

the dinner commemorating his 2003 College of Arts and Sciences Distinguished Alumni award

.

  Photo courtesy of Dr. Jack Gill (Ph.D., 1962).

 

Wani's

Thesis: 

https://search.proquest.com/pqdtglobal/docview/302095537/citation/A27EAFF1BA6E46FEPQ/1?accountid=11620