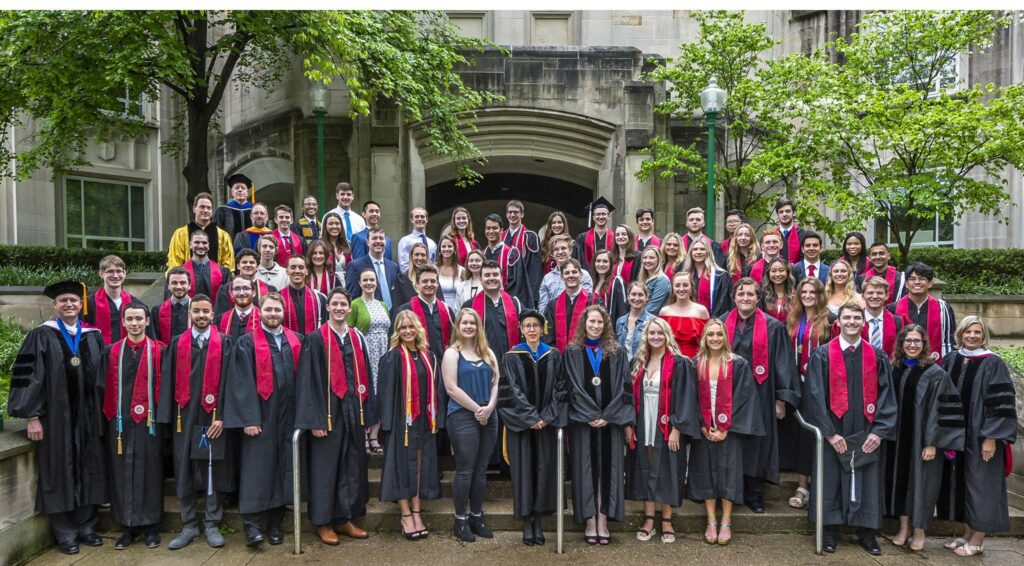 Chemistry and Biochemistry undergraduates and faculty who participated in the May 2022 Graduation Ceremonies.
Our undergraduate program enjoyed another successful year in 2022.  We welcomed a new Director of Undergraduate Studies, Teaching Professor Jill Robinson.  We conferred 91 degrees this year, including 17 Bachelors of Arts in Biochemistry, 33 Bachelors of Science in Biochemistry, 29 Bachelors of Arts in Chemistry, and 18 Bachelors of Science in Chemistry.  Eight of those graduates earned Chemistry Honors Notations on their degrees.  Their work is described in this post.
Senior Walker Smith combined his passions for organic chemistry research with Professor Kevin Brown and music composition by converting some of his NMR data and atomic emission spectra into electronic music and multimedia exhibits entitled "The Sound of Molecules" and "Chromatic Chemistry:  The Periodic Table in Light and Sound".  Walker's creations and creative processes are described in this article from the College of Arts and Sciences and this story from the Bloomington Herald Times. He performed these compositions in Auer Hall on the IUB campus, at WonderLab (Bloomington's science and technology museum), and during the College of Arts and Sciences Science Fest 2022 among other venues.  A video from his Auer Hall performance may be viewed on Youtube where he maintains his channel, TheChemistryShack, that has over 21,000 subscribers and 1.6 million views of its videos as of November 2022.
Senior Lecturer Laura Brown received the 2022 David and Cheryl Morley Award for Outstanding Teaching.  See this article for more details.
The Department is proud to have awarded over $114,000 to 57 students through 28 separate departmental scholarships in 2022.  A complete list of the scholarships and awardees is found here.
Did you know that our Chemistry and Biochemistry Majors comprised more than 17% of all IUB students who matriculated to traditional medical schools for the last 5 years?