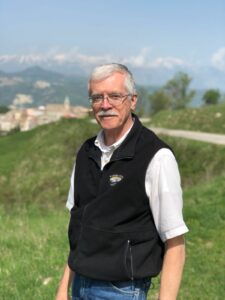 David Bish, Adjunct Professor of Chemistry, was honored by the Association Internationale pour l'Etude des Argiles (International Association for the Study of Clays) with the AIPEA Medal 2022.  The AIPEA medal was established by the general assembly of AIPEA to honor active clay scientists in recognition of outstanding contributions to clay science.  Only two medals are awarded every four years at the occasion of the International Clay Conference.
Prof. Bish's research focuses on applications of X-ray diffraction and thermoanalytical methods in the study of the behavior of solids, primarily minerals, particularly under non-ambient conditions. He was one of the original developers of the CheMin miniaturized X-ray diffraction/X-ray fluorescence instrument that is now operating on the surface of Mars.
Professor Bish received his Ph.D. in mineralogy from the Pennsylvania State University in 1977 under the guidance of G. W. Brindley. After a three-year postdoctoral fellowship at Harvard University, he moved to Los Alamos, New Mexico, where he was employed at the Los Alamos National Laboratory until 2003. He then moved to Bloomington where he was Professor and the Haydn Murray Chair of Applied Clay Mineralogy in the Department of Geology at Indiana University until his retirement in 2018. Prof. Bish was appointed Adjunct Professor of Chemistry in 2017.